ItalianCarParts.Com
605 Portland Avenue, Unit 515WL, Gladstone, Oregon 97027 USA
Telephone: 503.655.9811
Home On-line Catalog Order Form Contact Us
---
Clearance items
Link to our Secure Order Form at the end of the page.
NOTE: All close out merchandise priced for Final Sale.
---
Accessories


Driving Shoes An exceptional Driving Shoe from one of the Finest Names in Leisure Footwear. The "RIO" Driver has a full grain waxy Leather Upper, Chrome Leather Bottom, Leather Lining, Padded Comfort Insole & Unique Rubber Driving Tread "Blocks" for the ultimate in driving comfort.
Remaining Inventory & sizes listed only! Tan: #4645-co Size 8 only
Clearance Price $59.95 per pair

Fender Cover/Protector
High quality fender cover/protector protects the fender when your working in the engine, bonnet or trunk compartment. Handy flap will hold tools and other devices.
Available in Black or Red: #FC/R Red, #FC/B Black $14.95 ea
Alfa Romeo
Interior Carpet Set: Complete, for 1971-1985 Alfa Romeo Spider Veloce, NEW
Brown, Dense Pile Carpet, 1 available: #ARCS-BR-co $299.00

Front Break Set: All Alfa models 1968-95 except GTV6 & 164. Set includes Front left & right rebuilt calipers, new rotors and break pad set. Set is the updated version. Note: core charges apply on return of your original front calipers: #SP-601185 $879.95

Ferrari
Apparel

46mm 5 Speed solid aluminum polished shift knob
Fits all 5 speed Ferrari Models. 1 - 5 & R engraved in the knob: #5SAK-UP-co $99.95 ea

Carpet Set, Interior, NEW, Black, 80/20 Loop carpet material.
for 246GT / GTS models: #246-80/20B-co $389.50

Cooling system expansion tank, Used in Excellent condition for 328 USA models
1 available at this price: #FR121647-co $245.00

Floor Mat Set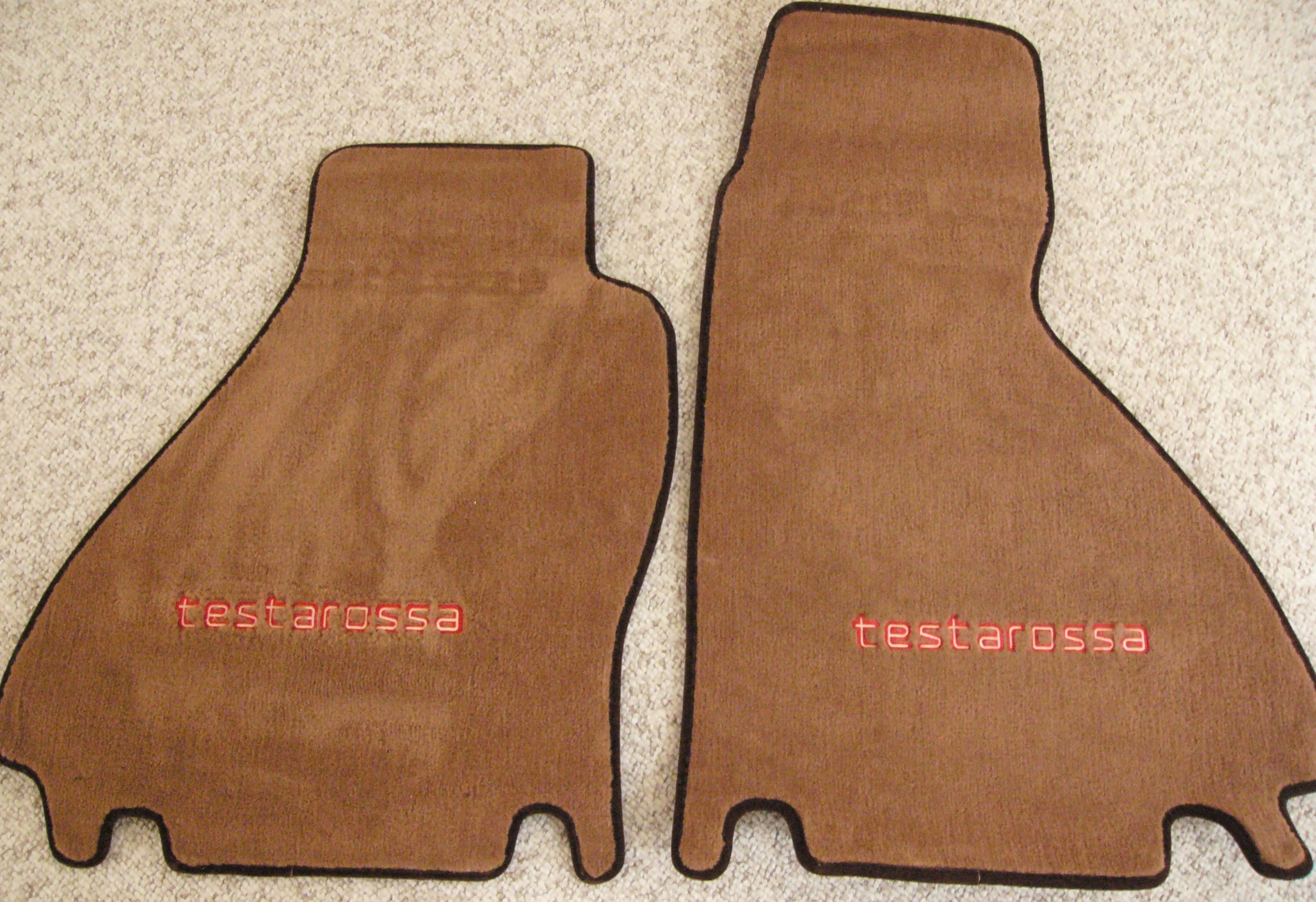 Testarossa
Dark tan carpet, word embroidery in red: #frfmTRr-co-TR1 $249.75 set

Turn signal lens, Front, Euro, Passanger side #fr60329604 $46.50
308 models 1976-81, NEW, small piece of lens missing at bottom, 1 only.

308/328 NEW Leather Headrest Set with Embossed Ferrari Horse
One set available in Black only: #FR240HEH-co $195.00 set
Good Used Parts Available for Ferrari Models
Catalytic Converter, 328 & Mondial 3.2 models, 1 only: #fr328ct-cl-u $429.00
Parking Light Assembly with lens, 308/QV, good used, LH driver side: #fr6012u $239.95 ea

Fiat

Lamborghini

Maserati
Floor Mat Set, Spider models 1999-04
Black with Red Maserati Crest, 1 set only: #MSFM-BRC-co $249.75
NOTE: All close out merchandise priced for Final Sale.
Click To Place Your ORDER!


Click To Return To The ItalianCarParts.Com Homepage!
All prices are in US Dollars.
Price and product availability is subject to change without notice.